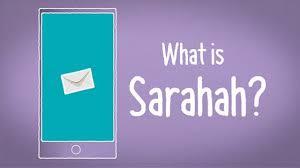 Safety Alert: Sarahah App, What Parents May Want to Know
Editor: SafeSchools.com
Monday, October 02, 2017
SafeSchools Safety Alert: Sarahah App

What Parents May Want to Know
It can be hard to keep up with all of the new social networking apps popping up, so we want you to be aware of Sarahah, a free social media app that lets users receive comments from friends and strangers anonymously. Users can connect it to the Snapchat app, so it's popular with teens and now has millions of users. But because of the anonymous feature, it's also yet another tool being used to cyberbully.

Here's everything you need to know about the Sarahah app:

What is Sarahah?
Sarahah is an anonymous feedback app that teens are using to pass anonymous digital notes to each other. Drawing upon the contact list on your phone, it lets you connect with friends and send anonymous comments to them, and also lets you search for users and send anonymous messages to them as well, even if you don't know them.

How safe is Sarahah?
Users can choose not to have their name or profile picture appear in the app's search or receive messages from unregistered users, but they must opt out to make this happen. Because all comments are anonymous, it's very easy for people to say mean and hurtful things without any repercussions, so it's being used as a cyberbullying tool.

How can children and teens protect their privacy on Sarahah?
If children decide to use Sarahah, they should use the settings to opt out of their name or profile photo appearing in search. They should also opt out of allowing unregistered Sarahah users to comment on their accounts as a further line of defense. They should also be encouraged to only share their profile link with specific people.
To help protect our district from cyberbullying, students, staff, and parents are encouraged to report safety concerns to school officials.