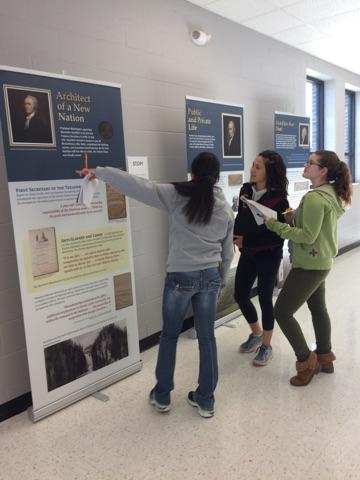 Schuyler R-1 High School is first to host the Gilder Lehrman Institute's traveling Alexander Hamilton exhibit.
Trenton Tallman
Monday, October 02, 2017
The Gilder Lehrman Institute offers traveling panel exhibitions for display at schools, libraries, and other sites in the continental United States. These informative, colorful displays cover ten major topics in American history.
Mrs. Kliethermes applied for the opportunity for Schuyler High School to be the first in the country to receive the new exhibition titled, Alexander Hamilton: Immigrant, Patriot, Visionary.
Using primarily reproductions from the Gilder Lehrman Institute's renowned collections, and drawing on recent scholarship about Alexander Hamilton, this traveling exhibition will examine Hamilton's role during the Revolutionary War and Founding period (1774-1804) in creating the economic, constitutional, social, journalistic, political, and foreign policy templates for modern America. It will acquaint visitors with a statesman and visionary whose life inspired discussion and controversy and shaped the America we live in two hundred years after his death.