Schuyler FFA Attends Greenhand Motivational Conference
Submitted by Jessica Seaton FFA Reporter
Around 75 to 100 first year FFA members from 5 Missouri High Schools had the opportunity to learn about being positive role models, learning to get involved, making sound choices, becoming active team members and making a positive difference in their lives, school and community at the annual Greenhand Motivational Conference. This conference presented by the State FFA Officers and sponsored by MFA Incorporated was held at Truman State University on January 11, 2018. Many schools were unable to attend the conference due to a bad ice storm.
Through interactive workshops and skits the State FFA Officers encouraged first-year FFA members to explore their talents and reach outside their comfort zone for the opportunities provided through FFA membership. They helped the new agriculture students set goals for their education, careers, and FFA experience.
The FFA is a national youth organization of over 650,000 student members preparing for leadership and careers in the science, business and technology of agriculture with 343 chapters and more than 25,900 members in Missouri. The FFA strives to make a positive difference in the lives of students by developing their potential for premier leadership, personal growth and career success through agricultural education.
Those in attendance were: Taren White, Gavin Veatch, Ryan Rigdon, Wade Cooper, Kaylee Lefler, Addison Spray, Jordyn Gray, Payge Humphrey, and Savanna Fields.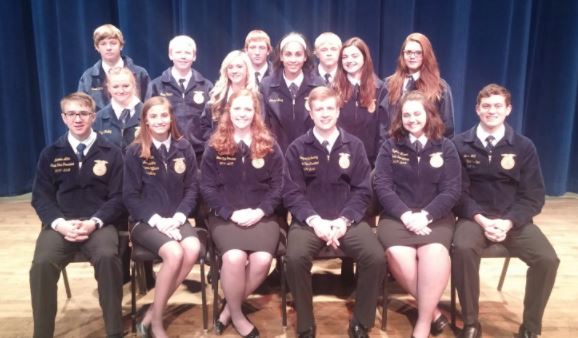 Hello everyone, it is that time of year again, the leaves are falling, there is a chill in the air, fall sports are in full swing, and the Schuyler FFA is holding our annual Fruit Sales. Fruit sales are going on now through October 23. This year the FFA is using 4Seasons Fundraising, and Western's Smokehouse. All FFA members are participating and would be glad to show you the brochures and place orders for you. We are asking that you pay when placing your order, however if you are not contacted directly or you do not know any FFA Members please contact Mr. Coley Hanes at the school and he will put you in contact with a member. We are also using online ordering through 4 Seasons, for this option you will log on to www.4sns.com and select our city, state, and organization, (Queen City, MO Schuyler High School FFA or enter code Quee05) then you can select the student you wish to support, then you browse the products, order online and 4Seasons will ship directly to your door, and credit the FFA chapter. All Westerns orders will need to placed with a member or with the FFA chapter, I am sorry but no online option available with this brochure below are links to the brochures you can look through and begin deciding what you might like to order. All of us with the Schuyler FFA Chapter would like to thank everyone for their continued support of the members and the program.
You may view the brochures for 4 Seasons through the following links: